Market Energy Bounces Into Spring!
Above average August temperatures appear to have contributed to fuelling an early start to the spring market. In the marketplace we have seen a notable increase in buyer activity, auctions brought forward & multiple offers over the past couple of weeks.
August statistics indicate positive times ahead with momentum building in the market. North Shore sales volumes remained relatively level when compared to the same period last year although the North Shore median price was down.
North Shore's median price decreased to $915,000 from $985,000 in July 2018 and $1,072,000 in August 2017. This was the lowest median since January 2016, potentially attributed to an increase in lower-priced properties & apartment sales in the period.
Auckland region had 1,792 sales in August and for the first time in six months saw a year-on-year increase in median sale price to $852,000; up from $830,000 in July 2018 and $840,000 in August 2017. 
Sales volumes remain stable with 298 sales on the North Shore in August compared to 277 in July 2018 and 292 in August 2017.
All in all, an excellent robust winter market and key indicators pointing towards a busy spring market!
Our auctioneer Aaron Davis appeared on One Roof recently, to tell why he feels that auction is still the best method for vendors to sell their home and how it is a more transparent method for buyers to buy with. The link to the video is below.
https://www.oneroof.co.nz/news/35395
The graphs below show for August 2018:
Median Sales Price vs. Number Of Sales & Auction Success Rate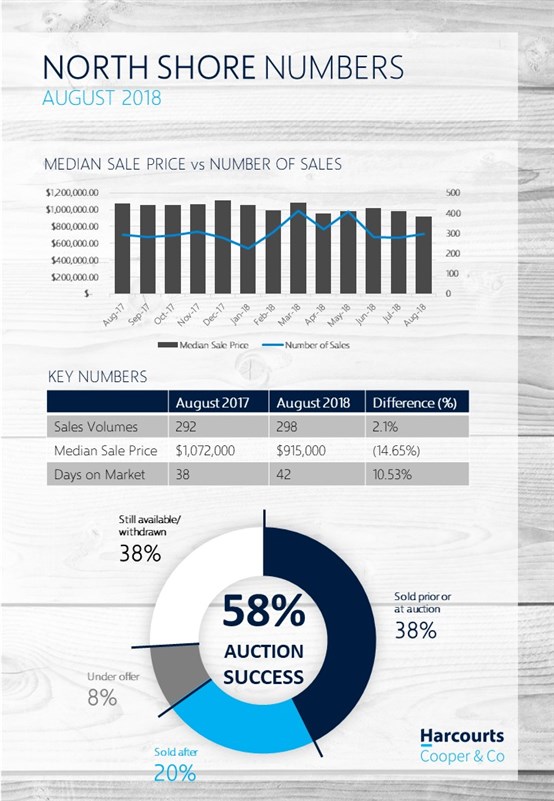 Below is an excellent "Countup" as to why list with Harcourts Cooper & Co. We are not just one office we have 19 as well as the Harcourts network of offices throughout NZ and internationally.